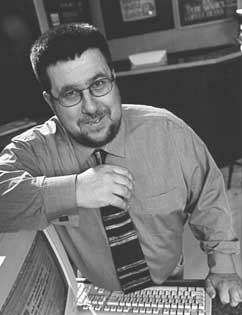 Steve Dotto is the talented host and executive producer of Dotto's Data Café, Canada's favorite computer "how-to" show. Airing each Sunday, Dotto's Data Café is an exciting hour of computer related topics composed of reviews of current computer trends, guest appearances, interviews, audience interaction, contests and a level of expertise and humor that make the show an enjoyable and informative experience. The show's focus is on the practical applications of computers through explanations and demonstrations designed to show the understandable nature of various computer products and programs. Originating out of British Columbia, the show is currently in it's 8th season and is broadcast across Canada on such networks as the Discovery Channel, and internationally in many countries around the world.
Steve also pioneered Canada's first multicast show by hosting Dotto on Data, another computer based production which is seen on the national level. On the local level, Steve writes an informative weekly computer column for the Vancouver Sun.
An educated and knowledgeable individual, Steve Dotto has left his mark at the various information sessions and lectures which he has attended each year. Helping to bridge the technology gap between the public and the computing world, Steve's emphasis is on developing a users ability through an understanding of the potential of computers and technology. His computer expertise combined with his background in theater and comedy have made his talks an educational and entertaining experience that appeals to all generations of computer users.
Former Keynote Speakers : David Plant (1998) Dr. Seymour Papert (1999)