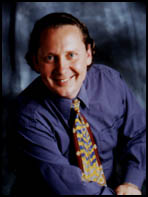 The keynote speaker for Hook, Line and Net '98 is David Plant, the market development manager (Entertainment) for Silicon Graphics Canada.
Before joining Silicon Graphics, David Plant was the Film Commissioner for the Toronto Film and Television Office, where he played a key role in strengthening the Canadian entertainment industry.
Silicon Graphics Inc. develops high-performance computing technology for several key industries, including manufacturing, government, entertainment, communications, energy, the sciences, and education. Its subsidiary, Silicon Graphics Canada, has its headquarters in Mississauga, Ontario and employs 140 people in six offices across Canada.
The company's systems, ranging from desktop workstations and servers to the most powerful supercomputers in the world, deliver advanced computing and 3D visualization capabilities to scientific, engineering, and creative professionals and large enterprises.
Silicon Graphics offers the entertainment industry everything from low-end desktop workstations to servers and high-end Cray® supercomputers. Silicon Graphics also markets MIPS® microprocessor designs, Alias|Wavefront entertainment and design software and other software products.
Silicon Graphics products have been used in the production of major motion pictures — like the current blockbuster Armageddon, the Oscar-winning epic Titanic, and special-effects creations like Flubber and Dr. Dolittle.
And Silicon Graphics also provided the computer software used to create Nintendo video games and elements of the animated television show The Simpsons and Reboot, created and produced in Vancouver by Mainframe.
Room E1020, 11:00am-12:30pm, Tuesday, August 18, 1998